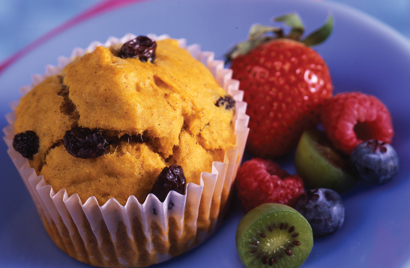 Ingredients

1-1/2 cups all-purpose flour
2 cups Kellogg's Special K cereal, crushed to 1 cup
3/4 cup Equal Spoonful or Granulated*
1/2 cup raisins
1 tablespoon baking powder
1 teaspoon ground cinnamon
1/2 teaspoon ground ginger
1/4 teaspoon ground cloves
1/4 teaspoon baking soda
1/4 teaspoon salt
1 cup low-fat buttermilk
2 egg whites
2 tablespoons vegetable oil
3 tablespoons light molasses

* May substitute 18 packets Equal sweetener

Directions

Lightly coat 12 muffin cups with nonstick spray or line with paper-liners; set aside.
Combine flour, crushed cereal, Equal, raisins, baking powder, cinnamon, ginger, cloves, baking soda and salt in large mixing bowl.
Stir in buttermilk, egg whites, vegetable oil and molasses until all ingredients are just moistened. Spoon batter into muffin cups, filling 2/3 full.
Bake in preheated 400F oven 18 to 20 minutes or until wooden pick inserted in center comes out clean. Cool in pan 10 minutes. Remove muffins from pan and cool on wire rack. Serve warm or at room temperature.

Recipe Yield: 12 servings
Nutritional Information Per Serving:
Calories: 152
Fat: 4 grams
Sodium: 273 milligrams
Cholesterol: 1 milligrams
Protein: 4 grams
Carbohydrates: 26 grams

Content Continues Below ⤵ ↷
Diabetic Exchanges
2 starch, 1/2 fat

Source: Equal ®