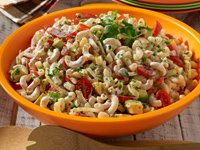 Ingredients

1 box Dreamfields Elbows or Penne Rigate
1 cup cherry or grape tomatoes, halved
1 red bell pepper, cut into thin strips
1 large sweet onion, halved and thinly sliced
1 avocado, diced
1/4 cup chopped cilantro
1 to 2 jalapeno chiles, seeded and chopped
1 cup reduced-fat mayonnaise
1 cup tomato salsa
1 tablespoon fresh lime juice
1/2 teaspoon salt

Directions

Cook pasta according to package directions; drain. Rinse with cold water; drain again. In large serving bowl combine pasta, tomatoes, bell pepper, onion, avocado, cilantro and jalapeo.
For dressing, in small bowl whisk together mayonnaise, salsa, lime juice and salt. Add to pasta mixture; toss gently. Serve immediately or cover and refrigerate to chill.
Notes:
The flavors of Southwest are a mixture of flavors from cool and creamy, hot and spicy, and a dash of sour tartness. A must have at any picnic.

Recipe Yield: Makes 8 side dish servings.
Content Continues Below ⤵ ↷
Nutritional Information Per Serving:
Calories: 313
Calories from fat: 44
Fat: 14 grams
Saturated Fat: 2 grams
Fiber: 7 grams
Sodium: 595 milligrams
Cholesterol: 13 milligrams
Protein: 8 grams
Carbohydrates: 0 grams


Source: Dreamfields