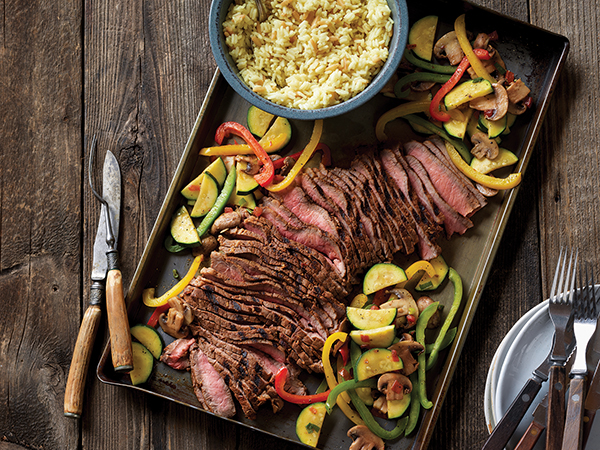 Picking lean protein options can be easier than you think. You can still enjoy a beef burger and save calories by choosing lean or extra-lean ground beef.
Other smart meat case picks include top sirloin steak or sirloin tip, bottom round steak or roast, eye of round steak or roast, or top round steak or roast.
Also make sure to choose colorful vegetables and fruits to round out your meal, like in this recipe for Grilled Southwestern Steak and Colorful Vegetables.
Ingredients
1 beef Top Round Steak, cut 1 inch thick (about 1-1/2 pounds)

Content Continues Below ⤵ ↷

Marinade:

1/4 cup fresh lime juice
1/4 cup prepared mild salsa
1 tablespoon chopped garlic
1 tablespoon olive oil
1 teaspoon ground cumin
1/2 teaspoon coarse grind black pepper

Colorful Vegetables:

2 tablespoons olive oil
1 medium green or red bell pepper, cut into 1/4 inch strips
8 ounces button mushrooms, sliced 1/4- inch thick
2 cups sliced zucchini, 1/4-inch thick
3/4 teaspoon ground cumin
1/2 teaspoon salt
1/4 teaspoon coarse grind black pepper
1 cup finely chopped tomatoes
1/4 cup chopped green onions


Directions
Combine marinade ingredients in small bowl. Place beef steak and marinade in food-safe plastic bag; turn steak to coat.
Close bag securely and marinate in refrigerator 6 hours or as long as overnight, turning occasionally.
Remove steak from marinade; discard marinade.
Place steak on grid over medium, ash-covered coals.
Grill, covered, 12 to 14 minutes (over medium heat on preheated gas grill, 16 to 19 minutes) for medium rare (145F) doneness, turning once. Do not overcook.
Meanwhile prepare Colorful Vegetables. Heat 2 tablespoons olive oil in large non-stick skillet over medium- high heat.
Add bell pepper strips; cook and stir 1 to 2 minutes or until crisp-tender.
Add mushrooms, zuchini, cumin, salt and black pepper; cook and stir 3 to 4 minutes or until crisp-tender.
Add tomato and green onion; cook and stir 1 minute.
Carve steak into thin slices; season with salt, as desired. Serve with Colorful Vegetables.

Nutritional Information Per Serving:
Calories: 277
Fat: 13 grams
Unsaturated Fat: 7 grams
Saturated Fat: 3 grams
Fiber: 2 grams
Sodium: 303 milligrams
Cholesterol: 77 milligrams
Protein: 33 grams
Carbohydrates: 8 grams


Source: Source: National Cattleman's Beef Association