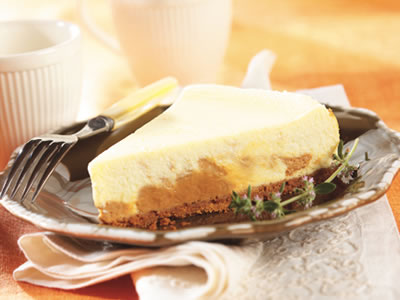 Ingredients

Crust:

1 cup graham cracker crumbs
3 tablespoons butter, melted

Filling:

3 (8 ounce) packages reduced-fat cream cheese
1 cup SPLENDA No Calorie Sweetener, Granulated
2 tablespoons all-purpose flour
2 teaspoons vanilla
3 eggs
1/3 cup reduced fat milk
1/2 cup dulce de leche

Directions

Preheat oven to 400 degrees F.
Mix crust ingredients together, and press into a 9-inch springform pan. Place pan on a baking sheet and bake for 10 minutes. Remove from oven and cool to room temperature.
Reset oven temperature to 325 degrees F.
Beat cream cheese, SPLENDA Granulated Sweetener and flour together until well mixed and smooth. Add vanilla and mix until smooth. Add eggs one at a time, beating well after each addition. Mix until smooth. Add milk and mix until well blended.
Measure 1/2 cup of the cheesecake batter and pour into a small bowl. Add dulce de leche and stir until well combined.
Pour plain batter over crust. Top with dulce de leche batter by placing rounded spoonfuls over the cheesecake batter and gently swirl into plain batter with the tip of knife or spatula.
Bake 45-55 minutes or until center is almost set. Remove from oven and gently run metal spatula around rim of pan to loosen cheesecake (this helps prevent cracking).
Let cool 20-25 minutes before covering and placing in the refrigerator. Refrigerate 4- 6 hours or overnight before serving.
Content Continues Below ⤵ ↷

Recipe Yield: Yield: 16 servingsServing Size: 1 slice (1/16 of cheesecake)
Nutritional Information Per Serving:
Calories: 210
Fat: 12 grams
Saturated Fat: 7 grams
Sodium: 210 milligrams
Cholesterol: 70 milligrams
Protein: 7 grams
Carbohydrates: 17 grams
Sugars: 11 grams


Source: Splenda
Recipe and image appear courtesy of Splenda.