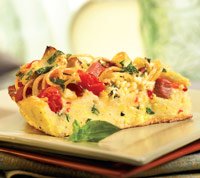 Ingredients

1/2 of a box Dreamfields Spaghetti
8 eggs or 2 cups egg substitute
1/2 cup grated Parmesan cheese
3 tablespoons chopped fresh basil, divided
1/2 teaspoon salt
1/2 teaspoon ground black pepper
1-1/2 teaspoons olive oil
1 large clove garlic, minced
2 tablespoons chopped green onion
1 jar (6 ounces) marinated, quartered artichoke hearts, drained
1 cup cherry tomatoes, halved
1-1/2 ounces diced prosciutto or ham
Cherry tomatoes (optional)

Directions

Cook pasta according to package directions; drain well.
Meanwhile, in large bowl beat eggs, cheese, 2 tablespoons basil, salt and pepper. Combine cooked pasta with egg mixture; set aside.
Heat oil in ovenproof large skillet over medium-high heat. Add garlic and onion; cook 1 minute. Add artichokes, tomatoes and prosciutto. Cook 3 to 4 minutes until vegetables are softened, stirring occasionally. Gently stir into pasta mixture and return to skillet.
Cover; cook over medium heat 10 to 12 minutes or until egg mixture is set in center. DO NOT STIR. Remove from heat.
Place skillet in oven 4 inches from broiler. Broil 2 to 3 minutes or until top is browned. Transfer to serving dish. Cool 5 minutes. Garnish with additional tablespoon of basil and cherry tomato halves, if desired. Cut into wedges; serve.
Notes:
This is a delicious breakfast or brunch pasta dish. Egg substitute may be used in place of real eggs. You can be creative and add in your favorite vegetables and ingredients to make this Italian omelet. Another way to turn the omelet over is to use 2 saute pans. Hold them tightly together for a clean flip.

Recipe Yield: Makes 6 main dish servings.
Content Continues Below ⤵ ↷
Nutritional Information Per Serving:
Calories: 283
Calories from fat: 27
Fat: 13 grams
Saturated Fat: 4 grams
Fiber: 4 grams
Sodium: 634 milligrams
Cholesterol: 296 milligrams
Protein: 19 grams
Carbohydrates: 0 grams


Source: Dreamfields