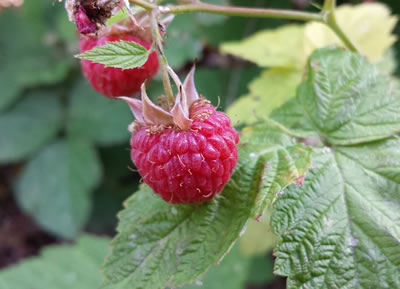 Ingredients

1 cup light raspberry yogurt
1/2 cup nonfat or light whipped topping
2 cups fresh raspberries, rinsed and patted dry
2 tablespoons sliced almonds

Directions

Place the yogurt in a bowl and fold in the whipped topping.
Place 1/4 cup of raspberries in each of four 8-ounce wine glasses.
Top the berries in each glass with 3 tablespoons of the yogurt mixture.
Repeat the layers and top each serving with a sprinkling of almonds.
Serve immediately.

Recipe Yield: Yield: 4 servings
Nutritional Information Per Serving:
Calories: 83
Fat: 2.3 grams
Fiber: 4.5 grams
Cholesterol: 1 milligrams
Protein: 2.7 grams
Carbohydrates: 14 grams

Content Continues Below ⤵ ↷
Diabetic Exchanges
1 Carbohydrate, 1/2 Fat

Source: Diabetic Dream Desserts
Book Title: Diabetic Dream Desserts