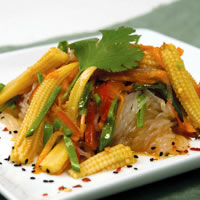 Ingredients

8 oz package Skinny Noodles Spaghetti Shirataki, drained and rinsed
4 oz carrots, shredded
4 oz snow peas, trimmed and shredded
4 oz red bell pepper, shredded
4 oz baby corn, sliced lengthwise
1/3 Cup your favorite ready-to-use, Light, Asian dressing (like "Ken's Lite Asian Sesame with Ginger & Soy")

Directions

In large bowl add noodles, carrots, snow peas, red bell pepper, and baby corn.
Pour 1/3 cup dressing over noodle salad, toss gently.
Cover and refrigerate for 1 hour before serving.
Notes:
Here's an easy Asian fusion salad guaranteed to impress. The spaghetti shirataki add extra texture to the salad and extend the portion size without added calories. You can serve this salad for a main meal, or cut the portion size and serve on the side.

Recipe Yield: Makes 2 servings
Content Continues Below ⤵ ↷
Nutritional Information Per Serving:
Calories: 185
Fiber: 11 grams
Protein: 6 grams
Carbohydrates: 26 grams


Source: Skinny Noodles