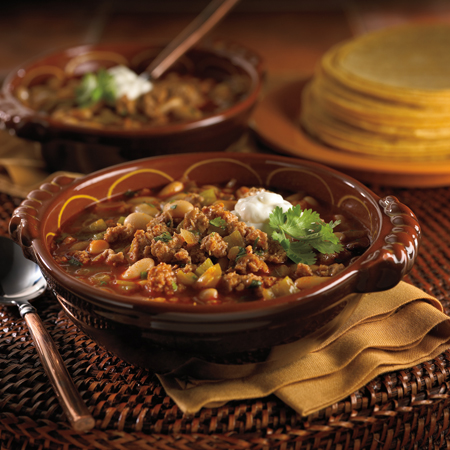 Ingredients

2 tablespoon olive oil
1 package (1.2 pounds) Honeysuckle White 93/7 Lean Ground Turkey
1 medium onion, chopped
1 tablespoon flour
2 teaspoons chili powder
2 (15-ounce) cans cannellini beans, drained and rinsed
3 cups low-sodium chicken broth
1 (4-ounce) can mild diced green chiles, drained
1/4 cup chopped cilantro
Corn tortillas
Sour cream

Directions

In large soup pot, heat oil over medium heat. Add turkey; cook about 5 minutes or until no longer pink, stirring occasionally to break up turkey.
Add onion, flour and chili powder; cook about 5 minutes.
Add beans, chicken broth and chiles; bring to a simmer and cook, covered, about 30 minutes.
Stir in cilantro.
Serve with warm corn tortillas and sour cream.

Recipe Yield: Servings: 8
Nutritional Information Per Serving:
Calories: 230
Fat: 9 grams
Saturated Fat: 2 grams
Fiber: 5 grams
Sodium: 320 milligrams
Cholesterol: 50 milligrams
Protein: 20 grams
Carbohydrates: 19 grams
Sugars: 1 grams


Source: Honeysuckle White