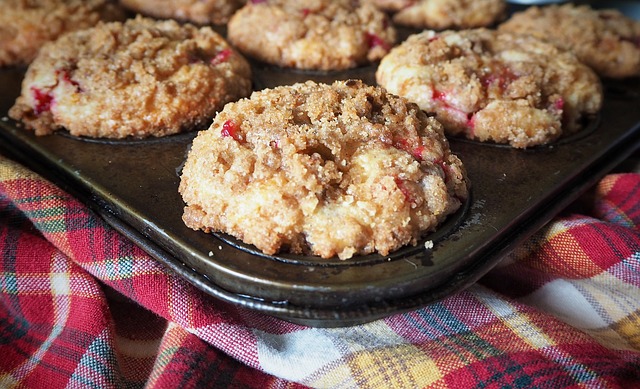 Ingredients

1-1/4 cups unsweetened applesauce
2 tablespoons vegetable oil
2 eggs, beaten
2 cups cake flour
1/4 cup SPLENDA No Calorie Sweetener, Granulated
1 1/2 teaspoons baking soda
1 teaspoon ground cinnamon
1/2 teaspoon salt
1 cup fresh or frozen cranberries, chopped
2 tablespoons finely chopped pecans

Directions

Preheat oven to 350 degrees F (175 degrees C).
Grease and flour a muffin pan, or use paper liners.
In a small bowl, mix together applesauce, oil, and eggs.
In a large bowl, combine cake flour, SPLENDA Granulated Sweetener, baking soda, cinnamon, and salt.
Make a well in the center, and pour in egg mixture. Stir until just moistened, and then fold in cranberries.
Spoon batter into muffin cups, 2/3 full.
Sprinkle nuts over the top of batter.
Bake in the preheated oven for 25 to 30 minutes, or until a toothpick inserted into the center comes out clean.
Cool in pan for 2 minutes before removing.

Recipe Yield: Serves: 12
Nutritional Information Per Serving:
Calories: 150
Fat: 4 grams
Saturated Fat: 0.5 grams
Fiber: 1 grams
Sodium: 270 milligrams
Cholesterol: 35 milligrams
Protein: 3 grams
Carbohydrates: 24 grams
Sugars: 3 grams


Source: Splenda
Recipe and image appear courtesy of Splenda.