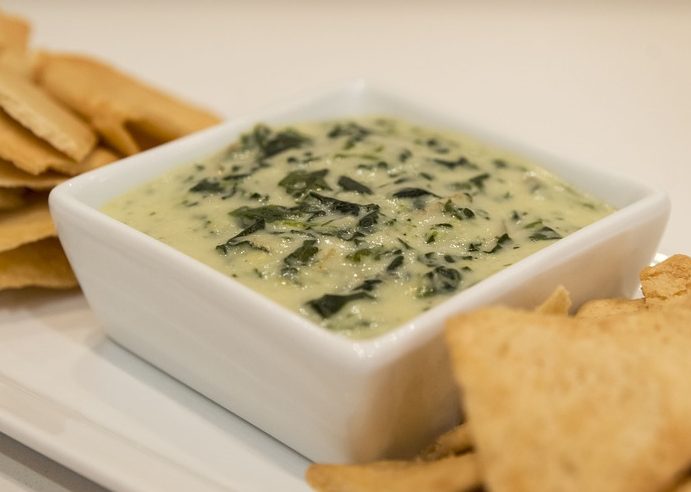 Ingredients
Canola cooking spray
1 teaspoon olive oil
2 tablespoon minced onion
1 small clove garlic, minced
1/2 cup light sour cream
1-1/2 cups low-fat cottage cheese
2 egg whites
1 tablespoon grated Parmesan cheese
2 teaspoons fresh lemon juice
1/2 teaspoon hot pepper sauce
Pinch white pepper
1/8 teaspoon crushed red pepper flakes
2 (10-ounce) packages frozen chopped spinach, thawed and squeezed dry
1 (10-ounce) package frozen artichoke hearts, thawed, patted dry, and halved
2 tablespoons chopped roasted red pepper
2 tablespoons shredded reduced-fat Monterey Jack cheese
1/3 cup thinly sliced scallions, green part only
Directions
Preheat oven to 350 degrees F. Lightly coat a 1-1/2-quart casserole with cooking spray.
Heat a small nonstick skillet over medium heat.
Away from the heat source, spray with cooking spray, and return to the heat. Add the oil and onion and saute until softened, about 5 minutes. Stir in the garlic and saute for another minute; set aside.
In a food processor, process the sour cream, cottage cheese, egg whites, Parmesan cheese, lemon juice, hot sauce, white pepper, and red pepper flakes until smooth.
In a large mixing bowl, combine the spinach, artichoke hearts, roasted red pepper, Monterey Jack cheese, and the cottage cheese mixture.
Spoon evenly into the casserole, cover, and bake for 25 minutes, or until the center of the dip is hot. Sprinkle with scallions and serve hot.
Notes:
This warm dip is similar to those served in restaurant chains, but it's low in fat and has a fraction of the calories and sodium. It's virtually guilt-free and is perfect for parties and get-togethers. Serve with pita wedges, baked tortilla chips, or low-fat crackers.

Recipe Yield: Yield: 12 servings, 2 tablespoons per serving
Content Continues Below ⤵ ↷
Nutritional Information Per Serving:
Calories: 71
Fat: 2.5 grams
Saturated Fat: 1.2 grams
Fiber: 2.2 grams
Sodium: 196 milligrams
Cholesterol: 7 milligrams
Protein: 7.3 grams
Carbohydrates: 7 grams
Sugars: 1.4 grams

Diabetic Exchanges
2 Vegetable, 1⁄2 Fat

Source: Diabetic Gourmet Cookbook
Book Title: Diabetic Gourmet Cookbook