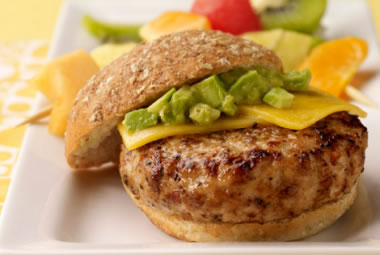 Ingredients

1/2 cup unsweetened applesauce
1 (16-ounce) package Jennie-O Extra Lean Ground Turkey Breast
2 teaspoons no-salt seasoning
5 small whole wheat buns
5 slices light Cheddar cheese
1 avocado, peeled and diced

Directions

Drain applesauce in a strainer to eliminate excess liquid. Mix ground turkey, applesauce and no-salt seasoning.
Form mixture into 5 patties. Cook patties according to package directions. Always cook to well-done, 165F as measured by a meat thermometer.
Place burgers on bun bottoms. Top with cheese and avocado. Cover with bun top.

Always cook to an internal temperature of 165F.

Recipe Yield: Makes 5 servings
Nutritional Information Per Serving:
Calories: 240
Fat: 6 grams
Saturated Fat: 2.5 grams
Fiber: 2 grams
Sodium: 410 milligrams
Cholesterol: 50 milligrams
Protein: 30 grams
Carbohydrates: 15 grams
Sugars: 3 grams


Source: Jennie-O