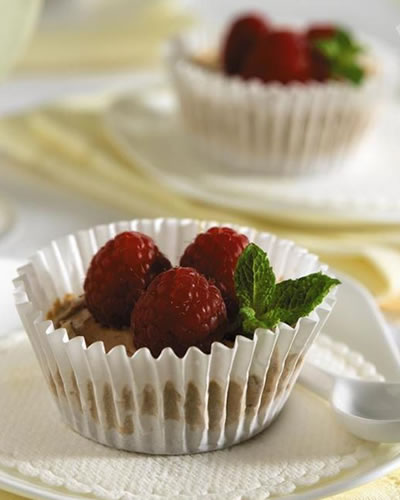 Ingredients

12 Nabisco Ginger Snaps
2 tablespoons Maxwell House Naturally Decaffeinated Instant Coffee
1 tablespoon water
1/2 cup Splenda No Calorie Sweetener, Granulated
1 (8 ounce) container Philadelphia Light Cream Cheese Spread
1 teaspoon vanilla
1/4 teaspoon ground cinnamon
1 1/2 cups Cool Whip Lite Whipped Topping
1 cup fresh raspberries

Directions

Line 12 muffin cups with paper liners. Place one cookie in each paper cup. Set aside.
Mix coffee granules and water in large bowl until coffee is dissolved. Add SPLENDA Granulated Sweetener, cream cheese spread, vanilla and cinnamon. Beat with wire whisk until well blended. Gently stir in whipped topping.
Spoon evenly over cookies in muffin pan. Top each cheesecake evenly with raspberries. Cover and freeze for 3 hours or overnight.
Remove from freezer about 10 minutes before serving to soften slightly.

Recipe Yield: Servings Per Recipe: 12Serving Size: 1 mini cheesecake
Nutritional Information Per Serving:
Calories: 100
Fat: 4.5 grams
Saturated Fat: 3 grams
Fiber: 1 grams
Sodium: 130 milligrams
Cholesterol: 10 milligrams
Protein: 2 grams
Carbohydrates: 11 grams
Sugars: 5 grams


Source: Splenda
Recipe and image appear courtesy of Splenda.