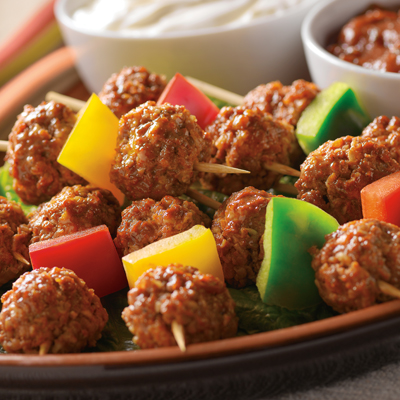 Ingredients
Nonstick cooking spray
3 pounds lean ground beef
2 cups quick oats
1 can (12 fluid ounces) Nestlé Carnation Evaporated Milk
2 large eggs
1/2 cup ketchup
2 packets (1.25 ounces each) taco seasoning mix
1 teaspoon ground black pepper
3 large bell peppers (any color), cut into 60, 1-inch pieces
60 4-inch wooden skewers
Salsa and sour cream (optional)
Directions
Preheat oven to 350F. Foil-line 3 baking sheets and spray with nonstick cooking spray.
Combine ground beef, oats, evaporated milk, eggs, ketchup, taco seasoning and black pepper in large bowl until just mixed. Form mixture into 120, 1-inch meatballs. Place on prepared baking sheets.
Bake for 15 to 20 minutes or until no longer pink in center. Drain on paper towels, if needed.
Thread two meatballs and one piece of pepper on each skewer. Place on large serving platter. Serve with salsa and sour cream.

Recipe Yield: Yield Makes 30 servings, 2 skewers each
Nutritional Information Per Serving:
Calories: 110
Fat: 1.5 grams
Saturated Fat: 1.5 grams
Fiber: 1 grams
Sodium: 260 milligrams
Cholesterol: 40 milligrams
Protein: 11 grams
Carbohydrates: 8 grams
Sugars: 3 grams