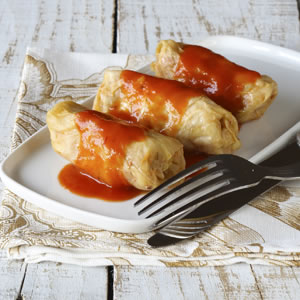 Ingredients

8 large cabbage leaves
1 package Skinny Rice Shirataki
6 oz ground turkey
1/2 onion, finely chopped
Salt and pepper to taste
2 cups chicken or vegetable broth
4 cups tomato sauce

Directions

Boil cabbage until soft being careful not to overcook.
Remove from water and set aside.
Rinse well and drain Skinny Rice ShiratakiSkinny Rice and set aside.
Mix together turkey, onion, Skinny Rice, and seasonings.
Divide the mixture into 8 equal round portions and wrap each with the cabbage leaves.
Mix the broth and tomato sauce in a bowl and set aside.
Place the rolls in a large saucepan, seam-side down, and cover with the broth mixture.
Cook on medium-low heat and simmer for 1 hour.
Garnish with asparagus, if desired, and serve hot.
Notes:
Cabbage rolls are popular in the ethnic cuisines of the Balkans, Central, Northern, and Eastern Europe, as well as the Middle East. This lighter version uses lean ground turkey and low carb, low calorie Skinny Rice instead of white rice.

Recipe Yield: Makes 4 servings.Serving size: 2 cabbage rolls.
Content Continues Below ⤵ ↷
Nutritional Information Per Serving:
Calories: 146
Fat: 4 grams
Fiber: 6 grams
Cholesterol: 33 milligrams
Protein: 12 grams
Carbohydrates: 20 grams


Source: Skinny Noodles