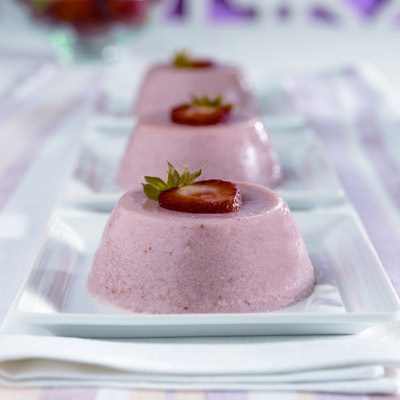 Ingredients

1-1/2 cups whole milk
1-1/2 teaspoons unflavored gelatin
1-1/2 pints strawberries, halved
2 tablespoons Splenda No Calorie Sweetener, Granulated
1 teaspoon vanilla extract
1 pint strawberries, sliced

Directions

Sprinkle gelatin over milk in a small saucepan; let stand 1 minute. Cook over low heat, stirring until gelatin dissolves (do not boil). Set aside to cool.
Process 1-1/2 pints strawberries in a food processor, or until pureed, stopping to scrape down sides. Press strawberries through a fine wire-mesh strainer into a bowl, discarding solids. Stir cooled milk mixture into strawberry puree. Add Splenda Granulated Sweetener and vanilla, stirring until Splenda Granulated Sweetener dissolves.
Coat 4 (6-ounce) ramekins with cooking spray. Divide strawberry mixture evenly among ramekins. Cover each ramekin with plastic wrap; refrigerate 4 hours or overnight until panna cottas are set.
Run a knife around the edge of each panna cotta and unmold onto serving plates. Serve with sliced strawberries.
Notes:
Reduced-carb panna cotta that everyone will love!

Recipe Yield: Servings Per Recipe: 4Serving Size: 1 (6-ounce) panna cotta
Content Continues Below ⤵ ↷
Nutritional Information Per Serving:
Calories: 130
Fat: 4 grams
Saturated Fat: 2 grams
Fiber: 5 grams
Sodium: 50 milligrams
Cholesterol: 15 milligrams
Protein: 5 grams
Carbohydrates: 21 grams
Sugars: 5 grams


Source: Splenda
Recipe and image appear courtesy of Splenda.