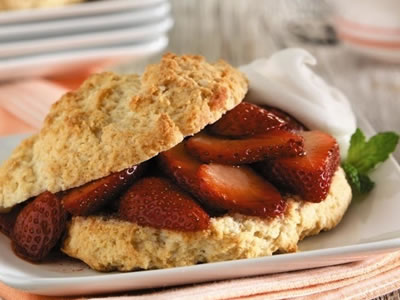 Ingredients

Strawberry Filling

3 cups sliced fresh strawberries
2 tablespoons SPLENDA No Calorie Sweetener, Granulated
2 teaspoons balsamic vinegar

Shortcakes

2 1/2 cups reduced-fat biscuit mix
1/3 cup SPLENDA No Calorie Sweetener, Granulated
1 cup plain fat-free yogurt
1 1/2 teaspoons vanilla extract
3/4 cup fat-free frozen whipped topping, thawed
12 sprigs mint sprigs

Directions

Strawberry Filling Directions: Stir together strawberries, 2 tablespoons SPLENDA Granulated Sweetener and balsamic vinegar; let stand 1 hour, stirring occasionally.
Shortcake Directions: Preheat oven to 425 degrees F.
Combine biscuit mix and 1/3 cup SPLENDA Granulated Sweetener in a large bowl.
Stir together yogurt and vanilla; add to dry ingredients, stirring just until moistened.
Turn dough out onto a lightly floured surface, and knead 3 or 4 times. Pat dough to a 1/2-inch thickness. Cut with a 2 1/4-inch round cutter, reusing dough scraps, if necessary. Place shortcakes on an ungreased baking sheet.
Bake 12 to 15 minutes. Serve warm with sliced strawberries. Garnish, if desired.
Content Continues Below ⤵ ↷
Notes:
Unlike the familiar sponge cake, this strawberry shortcake recipe features a sweet tender biscuit filled with fresh strawberries that are laced with a splash of balsamic vinegar.

Recipe Yield: Serves: 12``Serving Size: 1 shortcake, 1/4 cup strawberries
Nutritional Information Per Serving:
Calories: 120
Fat: 0.5 grams
Fiber: 2 grams
Sodium: 350 milligrams
Protein: 4 grams
Carbohydrates: 25 grams
Sugars: 6 grams


Source: Splenda
Recipe and image appear courtesy of Splenda.